Unique and Romantic Gestures for Him
By Mark Hamilton | Post Date: September 30th, 2019 | Categories: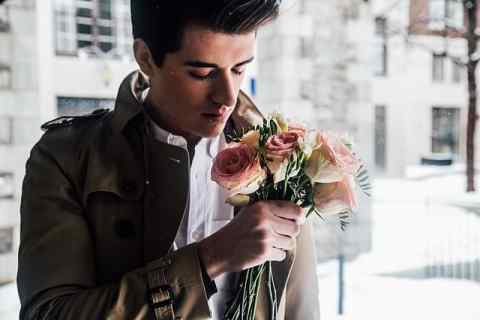 7 Unique and Romantic Gestures for the Special Guy in Your Life
Whether it's his birthday, Valentine's Day, or you just want to come up with something special to give or do for the special man in your life, you need unique romantic gestures for him.
Coming up with unique romantic gestures for him can be difficult. You don't want to be too cheesy (unless he likes cheesy) but you also don't want to seem impersonal or unoriginal with a bland card or unthoughtful gift.
It's important to come up with something unique that he won't expect from you — or anyone else.
Here are 7 unique gestures for him to get your brainstorm started:
1. Cute Kitchen Gifts
Does he struggle with making the perfect sunny-side-up eggs in the morning or has he been raving about a place that makes the best waffles and he wants to replicate them? Get him a cooking tool that will help him cook his eggs in his favorite ways or a countertop appliance that will let him bring a perfect brunch right to his breakfast table.
2. Rare Food and Drinks
There's probably a snack or a soda that he had at some point in his life that he can't find again — or get over. Is it something that he picked up while traveling abroad and can't seem to find in your county? Find it for him! And make sure you buy a big enough supply to make it a special treat he can have every now and then, or even share with you.
3. Concert Tickets
Is his favorite band touring? A unique, romantic gesture for him could be buying tickets to see that favorite band out of town. Not only is it a musical experience for you two to share, but it's an opportunity to shake up your routine nightlife schedule and head to a new place to explore together.
4. Cook Dinner
Surprise him with a special, home-cooked dinner. Don't be afraid to reach out to his family for secret recipes to try out and make for him. Cooking a comfort food from childhood would add an extra layer of uniqueness to a romantic gesture for him.
5. Bouquet of Food
Whether he's vegetarian or a meat-eater, a bouquet of his favorite food would be a special way to show him that you care and a fun and unique way to brighten his day.
6. Printed Memories
Time to get crafty! Hand-making a special item of mementos and pictures of your time together is a unique, romantic gesture for him that you don't have to shell out your savings for.
7. Sign Him Up for Peoplepedia
Let him express himself online through telling his life story. It'll be there forever, and he can memorialize his life through writing about his everyday adventures with you and you can pick up on some of his favorite memories, foods, things to do, and passions to help you discover more unique romantic gestures for him.