How to Start a Friendship Online on Peoplepedia
By Mark Hamilton | Post Date: February 6th, 2019 | Categories: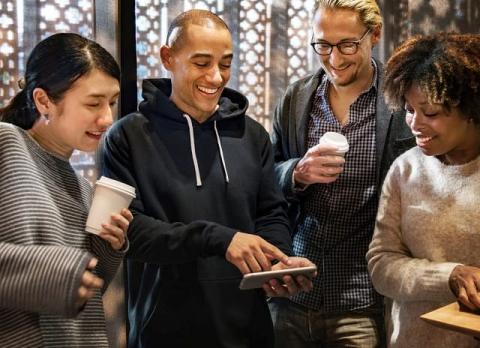 Friendships are an important part of life; however, beginning and maintaining them can be a challenge. We have technology at our disposal and the tools it gives us has an impact on every aspect of our lives. It's time to use that technology to make and maintain friends. Our website Peoplepedia.org can show you how to start a friendship online. With a large network of Peoplepedia users throughout the world, our website can allow you to access people throughout the globe.
Whether you want to make friends in another continent or across the street, Peoplepedia gives you the ability to connect and start a friendship with anyone regardless of their location. We have a vast network of users that span the entire globe. Each one is interested in sharing their life story and connecting to those who share similar interests.
How to Start a Friendship with Peoplepedia
To make friends on Peoplepedia, you must first start your own individual page. It's important for you to tell your new friends the events that have made up your life and shaped you into the person that you are. Those with a Peoplepedia page get the wonderful opportunity of sharing their life story with the world. It will forever exist online and be available for future generations to see.
Though it might sound like a challenge, writing your life story is easier than it sounds. Start by creating your username and password. Make it something you remember so that you can log-in without interruption each time you use our service. Once you have that complete, it is time to start writing. Like any story, start at the beginning and slowly work your way forward. This is essential for materializing your life's events in print. Your new friends will slowly begin following you as a reader to get updates on your life. Whether it's a career move, birth of a child or any other monumental event that occurs, make sure you share it on your Peoplepedia page. This will allow others to connect with you to begin your friendship.
Making Peoplepedia Work for You
After you publish your own page that shares your life story, it's time to make Peoplepedia help you grow your friend network. We have thousands of users from across the globe. Begin to explore other Peoplepedia pages to find someone else who shares your interests, hobbies or has similar life experiences. Choose to become one of their readers for continual updates about their life. This allows you to share a digital connection with that person. Your friends will begin to accumulate over your time on Peoplepedia. Once you have one friend, you will connect to others. You will be surprised how quickly your network of friends grows.
Why Make Friends Online?
Technology is designed to make our lives easier. Sites like Facebook are too often not useful for making new friends. This is not the case with Peoplepedia where you can connect with a world's worth of friends through the site. As you amass your digital connections through Peoplepedia, your friend base will continue to grow. You will now have a group of friends that you can discuss each aspect of your life with.
There are so many ways to make friends through the power of Peoplepedia. Be creative and find the people you share common interests with. The platform provided by Peoplepedia allows for instantaneous communication and updates with your friends. Keeping in touch is the most important part to maintaining quality relationships with friends.
About Peoplepedia
Known as "Wikipedia for the people", Peoplepedia gives you immortality. People are too valuable to just fade from our memories and be forgotten and then disappear forever. Peoplepedia does not let us just fade away and be forgotten. Peoplepedia preserves our precious existence forever. There is no charge for this service. Get started right now and invite your family and friends to start their own Peoplepedia Pages, too! It is free, fun, and rewarding! And it will be awesome for people to see you and know about your passions and achievements when they google you! Put yourself out there! To join, find our website. Then, sign up. It's that easy.